An athlete with shoulder internal rotation is like a golden unicorn with diamond hooves. It's so rare I cry tears of joy when I see it. It makes every shoulder movement you're ever going to do world's easier. If you're missing it it's hold you back I guarantee it.
What is it and why do you need it?
Your shoulder is a tri-planar joint. It can move in all three planes: frontal, sagittal and transverse. Lots of people think movement is confined to one of these three planes. Well that's a little too simplistic. For the big compound movements we do, you're actually moving in all three almost all the time. Think raising your arms overhead is a sagittal motion? Wrong, you have lots of passive accessory motions that are moving in all directions all the time. If you're missing those movements you ain't doing yourself any favors.
Internal rotation of the shoulder essentially looks like this:
Notice how the shoulder stays pinned against the floor. letting your shoulder raise up is the end of your IR.
What movements require internal rotation?
Quite frankly, all of them. But here are some specific ones:
– Snatch. This is the big one. Does the bar go flying away from you after your extend? Find yourself jumping 2 feet forward? Feel soft overhead? These are all telltale lack of IR. Having internal rotation allows you keep the bar close without slipping into a "soft" shoulder position. You get the best of both worlds.
– Bench Press. Whenever you get into positions of shoulder extension (elbows behind your back) you NEED internal rotation to keep the shoulder stable. If you're stiff and don't have it, you'll slip into the dreaded douchebag shoulder and you're BEGGING for a shoulder injury or worse, lack of power. Get IR and get both power and safety
– Muscle Ups. If your elbows fly out to the side when you try and catch you're probably missing IR. The shoulder dump and elbow flare is your body's way of working around your missing movements.
How do you improve your IR?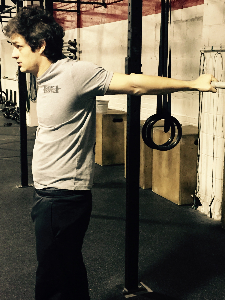 Sink Stretch
– Keep shoulders pinned back
– Bend knees to increase stretch
– Squeeze tight for 5 seconds, relax and take one step further away, repeat 10 times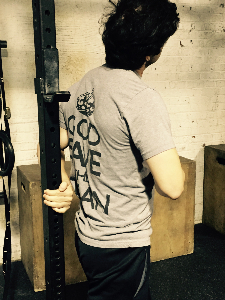 Bully Stretch
– Pin shoulder blades back
– Walk hips away
– Tilt neck away from arm for more stretch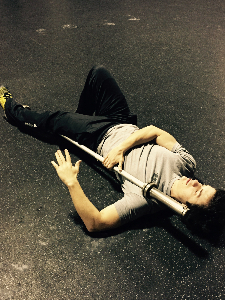 Internal Rotation Smash
– Lay flat on ground
– Drape leg over barbell running parallel to body
– Barbell helps pin shoulder to floor
– Bring hand towards floor, don't let shoulder come off ground
Bonus Mobility Work:
Banded Sink Stretch
– Keep shoulders pinned back
– Bend knees to increase stretch
– Squeeze tight for 5 seconds, relax and take one step further away, repeat 10 times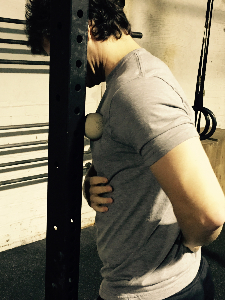 Pec Smash
– keep shoulders pinned back
– smash anywhere from collar bone to rib cage
– don't hold breath
Banded Triple Bully
– Same rules as bully stretch
– Hook band over the front of the shoulder
– Anchor band directly behind you
Give these IR fixes a try and let us know how it works. Have fun with your PRs